The Dre (2013)
In early 2013 there was a meetup at the Dre, but we were asked to not come back. They didn't like Timbers fans, fun, or money apparently.
Tailgater's (2013)
We met at Tailgater's in Ballard for 4-5 events but the bar was being sold to new ownership. Our bartender was not a big fan of the changes coming and didn't trust the new owners, so they reached out to the staff across the street at the Loft to see if they would host. When Tailgater's staff told us to not come to their new business and to go across the street, we welcomed their candor and made the move.
The coolest part of Tailgater's was the weather proof box with a TV on the outside of the building near the smoking section. If you were fast enough, you could step outside during a match and not miss anything.
I specifically recall being inside during a match when we scored at the death (like the Timbers do) and five people were outside banging on the windows going HAM trying to get inside fast enough to celebrate with us.
The Loft (2013-2015)
The Loft started off great. It was pretty central for everyone to travel, and easily accessed by bus from almost anywhere. They had an entire upstairs (hence the Loft title) with it's own bar and TV area. We would regularly bring 10-15 people and they would open the upstairs bar just for us. We even had a few trusted TA:CO that learned how their janky audio video system worked so we could get sound and help out the staff.
In 2015 the Timbers front office reached out to us ahead of derby day in Seattle and asked where we met, and if we would be interested in hosting some staff and/or players the day before the match. Several emails later, but Gavin Wilkinson booked the Loft for a private catered event and did a QA session! This is where we scarfed him, the other two travelling staff members, and gave him an extra for Caleb Porter. This is how TA:CO got Caleb Porter to wear the TA:CO 3 on the pitch literally 4 hours after we made them available for sale, just tell the Timbers GM he can have one only if he gives one to Caleb.
We were at the Loft from mid 2013 until late 2015. One of the last matches we saw there was the Double Post. We had so many people show up that at the end of the match we couldn't even fit into one room. So when Kwarasey nailed that last PK we ended up in not one, but TWO separate dogpiles. Everyone in the main room collapsed into a mess of bodies, everyone outside the room tried to rush in and join but couldn't get in, so they started their own hug puddle on the floor outside instead.
Right around the Double Post event the staff started to charge us "group" tax, meaning everyone that came had a mandatory 18% gratuity on their tab, even if there were only 3 of us that could make it. Their policy says group of 8+ will be charged, but they didn't give a shit about Timbers fans anyways. So we had already decided to try and find a new venue, plus we were going to The Cup and needed a bigger place to host 100+ TA:CO members expected to join.
The Angry Beaver (2015)
We originally approached the Angry Beaver because they were large enough to host for the 2015 MLS Cup, and the Loft were being a bunch of jerks. We didn't think the Angry Beaver would be our forever home, but the staff was super cool and welcomed us. At the end of the 2015 season and start of 2016 season we were already talking with Kate about going to the BEST BAR EVER. That conversation mixed with the fact that there was a massive gas explosion that destroyed most of Greenwood including the Angry Beaver was the end of that short lived and very memorable era. (We are all very glad Angry Beaver survived, no hard feelings there).
Kate's Pub (2016-forever)
aka Kate's TA:CO Bar, aka The Best Bar Ever, aka TA:CO Paradise
Orion favored Kate's Pub as his local watering hole and was friends with Kate. Once the Loft starting being less than welcoming, he suggested we move to Kate's. We worked with Kate to try and plan the 2015 MLS Cup at her bar, but it was not going to be large enough for our expected turnout so we went with the Angry Beaver (we were already talking with them about the Cup anyways). Funny enough, in 2018 we had the MLS Cup at Kate's with an estimated turnout larger than Angry Beaver. We were the largest single day Kate's Pub ever had in sales, second only to St. Patty's Day (which is a huge deal for Kate's Pub).
In 2016 we made Kate a thank you gift with a small 10″ wood slice engraved with "Kate's Pub – Home is there the TA:COs are." She hung it on the wall in the back room where we meet, and we thought it was neat and small enough to be covert. In 2017 Kate surprised us with a thank you gift in return. She had a custom wood plaque created for us, and renamed the entire back of the bar to Kate's TA:CO Bar. Today there are two wooden signs, a team signed Timber's kit and a customized Timbers 2 kit with Kate's Pub logo framed. This is definitely a Timbers bar, and our home.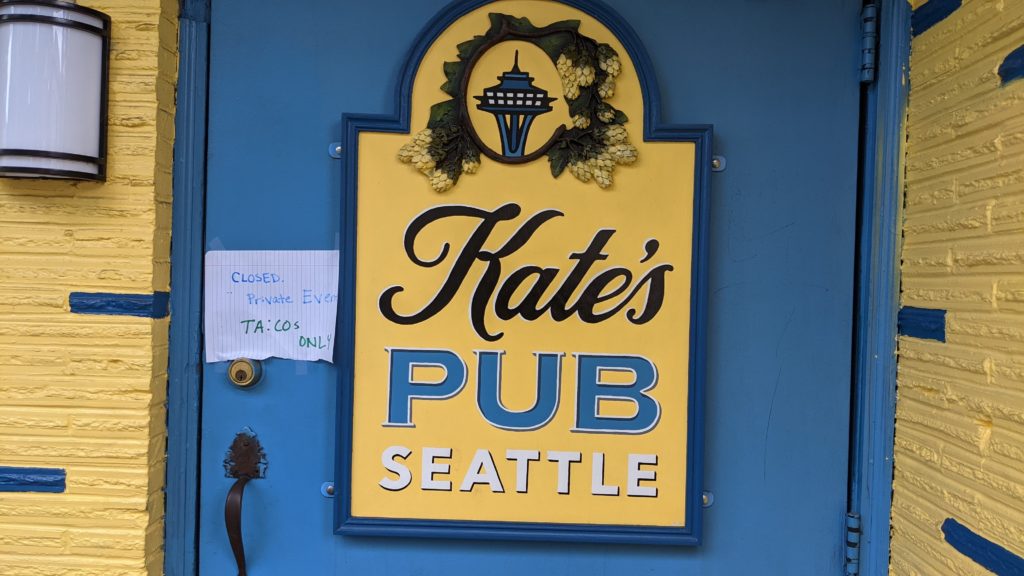 (Visited 25 times, 1 visits today)
#Angry Beaver
#Double Post
#Dre
#Kate's Pub
#Loft
#MLS Cup
#Tailgater's